In order to facilitate the public's access to its judicial activity, the Court of Justice of the European Union offers a streaming service.
The delivery of the judgments of the Court of Justice and the reading of the opinions of the Advocates General will be broadcast live on this page. The broadcast, which at this stage will only include cases assigned to the Grand Chamber, will be made from the start of hearings for the delivery of judgments, in accordance with the timetable provided in the judicial calendar.
Hearings of cases assigned to the Grand Chamber of the Court of Justice are, in principle, broadcast later, for a pilot period of 6 months. The hearings may be viewed either the same day, from 14.30pm (for hearings that took place in the morning), or the following day from 9.30am (for hearings that take place in the afternoon), but may not be consulted subsequently.
Conditions of use and warning
The hearings are broadcast on the internet by the Court of Justice of the European Union in order to allow citizens to follow those hearings under the same conditions as if they were physically present at those hearings.
In the same way as it is prohibited for the public attending a hearing to record it, it is prohibited to download or record, in any form whatsoever, the hearing broadcast on the internet, whether wholly or in part, whether that concerns images or sound, including of the sound of the various interpretation channels.
The broadcast of a hearing on the internet does not constitute, under any circumstances, an authentic recording, an official record or the official minutes of that hearing.
The Court of Justice of the European Union cannot be held liable either for the opinions expressed and statements made during a hearing broadcast on the internet, or for the consequences of a download or a recording.
Interpretation
The interpretation of public hearings of the Court of Justice and the General Court is undertaken in order to facilitate communication and does not constitute an official record of the pleadings. Only the original language is authentic. Interpreters are exempt from any liability in the exercise of their duties.
To select a language, first click on 'settings':

and then click on 'Audio Tracks':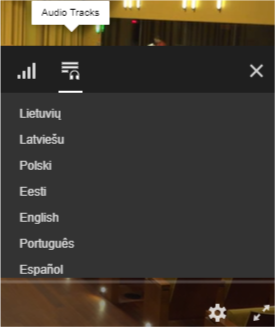 and select the language required.
If interpretation is not available in the selected language, the original language is selected by default.